The New Year is among us. Gone are the days of flooding our social media feeds with our most beloved scenes from National Lampoon's Christmas Vacation, for irritating our digestive systems with greasy casseroles and sausage balls and for decking our every hall with ornaments of green, red and gold.
'Tis the season for the gyms to be overcrowded, for organic produce to fly off of the grocery shelves, for vision boards to deck the walls, for semi-torturous attempts at detoxification, for many of us to flood Facebook, Instagram and Twitter with quotes we may or may not actually live by and, most notably, for countless, often climactic, proclamations of "New Year, New Me" appearing on the pages of personal journals and social media feeds. If any of this applies to you, this is my humble admission that I'm rallying in the crowd among you.
I recall a moment on the first day of this year as I was curled up on my couch – the previous night's makeup and eye glitter still partially intact – when, out of the corner of my right eye, I peered at my ornament-adorned Christmas tree with absolute dread. The first day of the new year will likely play out similarly to the last. However, the year 2015 taught me that I alone possess the power to make the complete story of every new year as different from or as similar to its precedent as I so desire. So do you.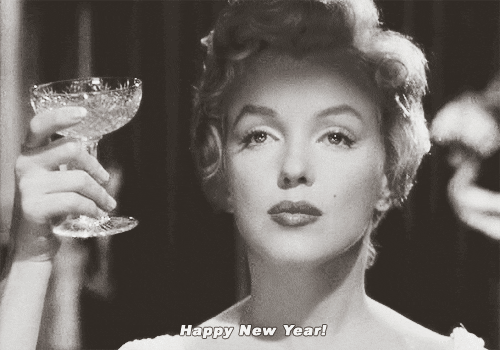 This is the season for new beginnings, for reflection, for the closing of chapters, for clean slates, for goal-setting and for, if you so dare, total reform. As the final cork pops and we toast to all that we hope to accomplish, as we begrudgingly stow our holiday decorations into boxes, order new running shoes, wipe the dust from our blenders and warm up our yoga mats, we often find ourselves considering all that we did not achieve in the previous year. We find ourselves focusing on our failures and creating resolutions from a place of criticism and disappointment.
We often assume that if we beat ourselves up enough, we are thereby beating the little demon out of us which is responsible for our lack of change. But, we've got it all wrong. You can't chase him out with comparisons, insults, threats and scare tactics. He cannot be taunted by the past. He is a powerless contender with nothing more than an obnoxious vocabulary, merely contaminating your thoughts, and he is only there because you invited him in. You alone are the only one who possesses the power to open the door, set him free and, thereby, shut him up permanently.
I'm referring to your beliefs. This is where each of us must begin, my friend.
A 'Black Friday' Perspective
This year on Black Friday, I dared to embark on a shopping venture with my grandmother. I grew dizzier with every turn of a corner as I observed more toys, xbox games and clothes vanishing from the shelves. Most intriguing, however, were the innumerable purchases of juicers, blenders, gym equipment and fitness dvd's. I was particularly amused as I observed one man pat his protruding belly and exclaim to his wife with a wink, "I'm getting rid of this thing."
I considered the irony. He had likely spent the previous day immersing himself into unabashed gluttony, yet had already concocted a plan to "undo" the damage. The problem with such mindset is that there is no way to authentically prepare oneself for a new set of habits while synergistically indulging in its opposite. It won't be a lasting change because you're merely creating a smokescreen to appease that which you dislike about yourself. You're pitching yourself a dream, while the actual work dangles alluringly in the future – just out of your reach.
Why Most New Year's Resolutions Are Broken by February
Why do the majority of New Year's resolutions crash and burn long before Cupid draws back his bow? The answer is simple: The same old lawbreaker cannot be employed to make a new set of the rules, for he is guaranteed to break them once again. It must come from somewhere much deeper. New ground must be broken.
Lasting change only occurs when one alter the beliefs he holds about himself and the world, about what he views as being within the realm of possible as well as the values he is committed to. He must be willing to fully release some things which no longer serve him; not merely "lose" them. It would be silly for one to attempt to concoct a sincere plan for better health while continuing to gorge himself.
Simply stamping a "start date" on a plan doesn't mean you have truly drawn a line in the sand. The commitment will be superficial, it will have no solid foundation and will, therefore, crumble as soon as enough distractions are presented. You've got to uproot and take an honest assessment of "you".
The Ghost of New Year's Past
You may find yourself experiencing thoughts such as, If only I could just go back to that weight, If only I had that much money again, If only I had never left that job or If only I had not destroyed that relationship. By obsessing about "going back", however, you are actually crippling yourself.
The past always looks prettier from a distance, but it's deceiving. Stop trying to recreate it. Stop obsessing over your pictures from three years ago. Stop being blinded by the allure of yesterday's glittering appearance.
There is no harm in using your past successes as motivation, but pining for a time which is gone is utterly useless. Even if you were once the most righteous, envied female within a fifty mile radius of your city, mentally revisiting such a time over and over is only locking you into a state of imprisonment. Write a new chapter; stop merely allowing your tears of regret to hit the pages of yesterday.
This is a new season, so create new standards for it. You can celebrate the past, but leave it where it is. The power exists right now. The power is today.
The Ghost of New Year's Future
Let us travel through time. Shake hands with yourself exactly one year from this day. Who do you wish to be? That point in time is inevitably going to arrive. You can either be depositing the same paychecks, confined to the same unfulfilling relationship, clawing yourself out of the same ditch or complaining about the same annoying toothache, another year older and in possession of a larger collection of regrets or, perhaps, reflecting with pride on a new set of accomplishments and circumstances.
Write a letter from your future self to your current self. What advice would your future self offer? What tokens of wisdom would your future self possess? What financial, health and relationship issues would you ask of yourself to handle? What curiosities and dreams would you encourage yourself to follow?
Decide who you wish to become this year. Begin to envision that person – that greater version of "you" – and hold their image in your mind, posing the following question to yourself:
What would he/she do? 
Ask yourself this question every day, all day long, until your new values and habits have become as second nature as brushing your teeth or pouring your morning cup of coffee.
You are writing the stories of your life, so fill your pages wisely. Write them in celebration, in your favorite colors, to your favorite soundtrack and, most of all, so that they may bless others.
Here is to even your wildest, weirdest desires coming true for you in this new year.
©TheDailyDoll.com/Lacey Johnson 2015
This article has also been published on The Huffington Post.